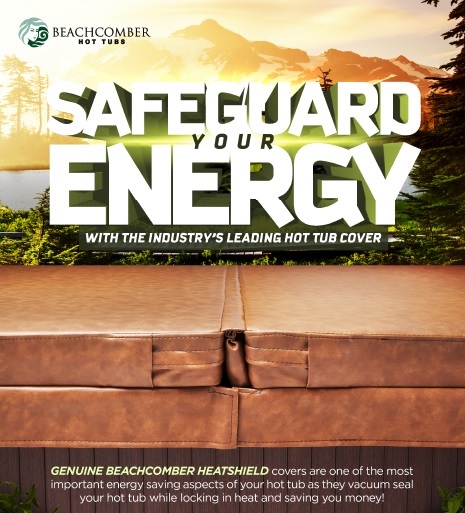 Hot tub covers are one of the most important energy saving aspects of your hot tub. But, not all covers on the market are created equal. Ensure that when you purchase a cover it is designed to the highest standards with energy saving aspects in mind.
Beachcomber hot tub covers have up to 45% more insulating power than other covers and are the industry's leading hot tub cover. Every Beachcomber cover is a heatshield that virtually locks in heat and energy. These covers are made in Canada for Canadian climates.
Our covers are created to blend into your backyard environment and match your home décor and lifestyle. We stock sizes in Tan or Steel colours in both regular and opposite folds. A regular fold lid folds to the side when you're standing facing the control panel. An opposite fold lid folds to the back when facing the control panel.
The five basic sizes we stock are: (other sizes are available as special order)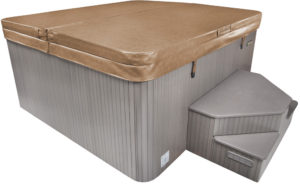 89″ x 89″ – fits models 378, 380, 580, 730, 738, 740, 750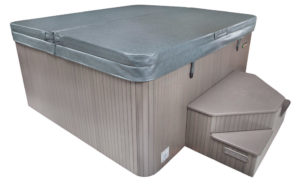 80″ x 88″ – fits models 160, 350, 360, 550, 550x, 578, 720, 720x, 725
70″ x 86″ – fits models 340, 530, 538, 540, 715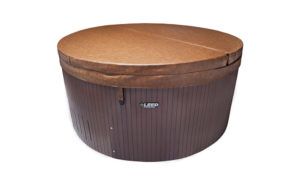 78″ Round – fits models 320x, 321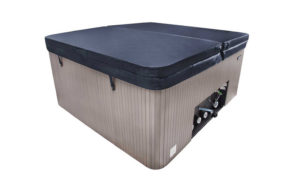 57″ x 75″ – fits model 520
Beachcomber Heatshield Eco-Design Features Include:
ASTM/UL Worldwide Approved
All Beachcomber Hot Tub Heatshield Covers are UL Certified, and also meet the American Society for Testing and Materials Standard ASTM F1346-91: the "Standard Performance Specification for Safety Covers and Labeling Requirements for All Covers for Swimming Pools, Spas and Hot Tubs".
Aluminum Centre Rib Support
Equipped with a 3mm aluminum rib that's extra strength, lightweight and corrosion proof, ensuring structural integrity and a high snow load rating.
Continuous Heat Bumper Seal
Every Beachcomber Heatshield is built with quality in mind. The Continuous Heat Bumper Seal is a squeezable cylinder that runs the full length of the Heatshield cover, and is pinched between the two foam inserts when the Heatshield is closed. This compression action traps in heat into the water vessel, saving money in heating and electrical energy costs.
Beachcombers' attention to quality and workmanship is personified in this little known step in hot tub cover construction. This seal locks in heat over the entire length of the hinge, for an added barrier against heat loss.
The Heat Bumper Seal is capped at each end with another compression cap called a Steam Sealer, further preventing heat loss. Beachcomber is committed to energy conservation and low energy costs.
Cover Lockdown Safety Tabs
Each Beachcomber Heatshield is built with Cover Lockdown Safety Tabs as standard equipment. These special tabs are installed at the end of the lockdown straps, and fit into the lockable unit that is affixed to the hot tub cabinetry.
The Beachcomber Heatshield is a lockable unit, to prevent unwanted entry by children, pets or even environmental conditions such as wind. We are committed to product safety and quality.
Each Heatshield comes with a full set of lockdown tabs, which are easily installed by the home owner with a simple screwdriver tool.
Double Reinforced Handles
Beachcomber's Heatshield Covers are built with twin access handles for the convenience of the hot tub owner. Both of these heavy-duty handles are hand sewn directly into the main seam structure of the secured outer band of the cover. This style of construction gives added strength and durability.
Each handle is a full eight inches in length, to allow space for any size hand to easily grasp the handle for Heatshield removal and replacement. Quintriple stitching gives the handle an industrial strength rating for long lasting quality.
Twin handles ensures that the hot tub cover can be lifted from either side.
High Density Foam Inners
This high-density foam is cut to exact specifications to fit tightly inside a vacuum-sealed polybag, maximizing heat retention.
A high R-Factor of 14.14 per inch is achieved with Beachcomber's Power Guard foam inner. This high-density foam locks heat in, and prevents the transfer of water in or out.
Laminated Krevlon Interior Liner
Adding another moisture barrier to the underside of the Heatshield Cover, is the Krevlon Interior Liner. This grey colored liner is sewn into the main fabric system of the Heatshield and is in direct contact with the water moisture. It acts as a vapor barrier for the poly-sealed foam inserts.
Beachcomber's Krevlon Liner is equipped with drain gaskets, to allow moisture to drain away. This prevents the moisture from being trapped inside the liner.
A 15-ounce double ply material for this bottom liner makes it moisture and mildew resistant. Composed of a Polyester Scrim, it maintains optimal strength and durability.
Marine Grade Vinyl Outer Shell
Every Beachcomber Heatshield Cover is wrapped in a marine grade vinyl outer skin, specially treated to resist moisture, mildew and harmful UV rays from the sun.
Beachcomber's liquid "Cover All" is designed to clean and condition your Heatshield and prolong the life of the cover.
Superior Steam Sealer
Inside the outer edge of the hinge of each Beachcomber Heatshield is a hand sewn Superior Steam Sealer. These two small vinyl covered gaskets are added protection against heat loss, and found at both ends of the hinge. They prevent heat and steam from escaping, and maximize the heat retention capabilities of your Beachcomber Heatshield.
Tapered Drain Slanted Design
A sensible tapered design allows rain and run off for the best drainage. The internal foam inserts are cut in once piece and beveled with a tapered style. This makes the cover taller at the hinge, and runs to a shorter height at the outer edge for proper water drainage. This style of construction prevents water pooling and water absorption.
Beachcomber Heatshields feature a taper from four inches at the hinge, to a three inch at the outer edge.
Two Year Factory Guarantee
Every Beachcomber Heatshield Cover comes with a two-year Guarantee from the factory against defects in materials or workmanship. We stand behind our products. This is Beachcomber's promise to our customers, that the Heatshield will perform as promised.
Vacuum Fitted Sealed Inners
Each foam insert for Beachcomber Heatshields are sealed from the factory in a heavy-duty poly bag. Using a vacuum sealer, air is pulled from the inserts to make it as air tight as possible.
Vacuum-Fit Radius Corners
Each foam inner is trimmed on two corners at a six-inch radius. Once inserted, the inner seats itself securely into each corner for a very tight fit.